Hello everyone,
I have some of my users who don't receive our emails. They directly go to "Suppressed" status with the following description: "not delivered because a previous message to recipient bounced or was marked as spam".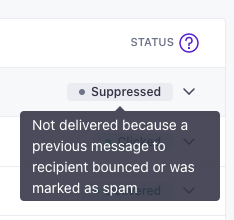 That is a problem especially for transactional email and "rest password" email. Some users can't receive emails.
Is there any solution to avoid suppressed status, or to change it ?
Thanks
Thomas